---
---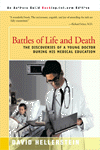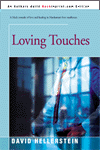 David Hellerstein, M.D.
Psychiatrist and Writer
David Hellerstein, MD is a psychiatrist specializing in the treatment of mood and anxiety disorders, and is Clinical Director of the New York State Psychiatric Institute in New York, NY. His research studies have appeared in numerous psychiatric journals. His literary writing has been published in numerous magazines and books

BOOKS:




Stone Babies: (novel) Dr. Jay Sones, a newly trained infertility specialist, runs into trouble as he tries to get his practice afloat. A love story and thriller about health care in America today

Battles of Life and Death (essays) Thirteen award-winning essays about becoming a doctor. Initially published in North American Review, Esquire, and other magazines



Loving Touches (novel) A black
comedy about Pete Roth, a young
psychiatry resident in training at a
prestigious New York City hospital.



A Family of Doctors (family
memoir) Five generations of
physicians in one family, covering
the period from the Civil War to the
1990s. Published by Hill and Wang



Available at Amazon.com.

EXCERPTS:
AN INTERVIEW: How to Become a Doctor-Writer
FROM BOOKS: Stone Babies, Battles of Life and Death, etc.
AN ESSAY: Does Prozac Change Your Personality?
A New York Times "Cases" column...
REVIEWS:
What critics, readers, and other authors have said...
REPRINTS AVAILABLE:
Articles, interviews, essays now available for order...
David Hellerstein, MD, David J. Hellerstein, M.D., David Joel Hellerstein, M.D., D.J. Hellerstein, M.D.

---
Excerpts | Reviews | Psychiatric Practice | Research | Writing | About Dr. Hellerstein | Contact us